The top 100 Villains rankings of the Horror, Thriller, Mystery, & Suspense genres–Film, Literature, Mythology, Folklore, Urban Legend. The list was contrived based on the villain's personality, characteristics, cultural impact, turpitude, originality, performance, and other various subjective factors.
40.)
 Mr. Hyde (Dr. Jekyll and Mr. Hyde) On the surface, the Victorian-era Dr. Henry Jekyll had a grand life– successful career, socialite status, handsome, and affable. Inside, it was an insidious battle with his nihilistic alter-ego Mr. Hyde. In an attempt to suppress this mental menace, the Doctor creates a serum. Adversely, the potion escalates his evil persona, transforming him into a revolting, fiendish creature. His dastardly escapades around London became legendary re-told tales.
39.)
Pamela Voorhees ( Friday the 13th series) – With the benign exterior of an innocuous granny, Pam Voorhees stayed committed to avenging the accidental drowning death of her son Jason for the tune of 20+ years. And in its bloody wake, she sabotaged any attempted redux of Camp Crystal Lake—fires, murder, poisoned water. She's got brawn and crazy down, but her agility was lacking, resulting in her death. Alas, she spent the remainder of the series as a bodyless corpse, her head resting solemnly in a morbid shrine, constructed by Jason Voorhees.
38.)
Baphomet (Demonology) – Baphomet is a goatlike robust humanoid deity worshiped as far back as medieval Europe. The lauding of this pagan idol was considered heresy, and therefore anyone caught would be deemed a person in league with Satan and subsequently burned at the stake. Over time, the horned deity became a prevalent symbol in the occultic world; incorporated in Tarot Cards, emblems, candles, garments, etc.
37.)
Angela Baker (Sleepaway Camp series) – In the 1983 slasher film Sleepaway camp,  Angela is depicted as a speechless, meek girl who's bullied at summer camp. It's often considered the apex of slasher movie shock-endings when Angela turns out to be the killer. The blood-chilling reveal shows Angela as a gender-altered homicidal boy whose mind has twisted savagely wayward. In the following sequels, Angela grows up to be a snarky, predacious camp counselor, complete with an array of gruesome kills and slick quips to go with it.
36.)
The Stranger (When a stranger calls) – Everyone in the history of suburban civilization has had the fear of a creepy stalker lurking outside of their house when alone. The 2006 remake film 'When a Stranger Calls' superbly captures this infamous urban legend.  Particularly, I praise the filmmakers for depicting the stranger as a mysterious, amorphous figure that's capable of doing anything or being anywhere. "Did you check the children?" The torment rises at a gradual pace, showing how the psychological aspect can be as destructive as any physical harm.
35.)
Carter Hayes (Pacific Heights) – Remember his face, because he'll have a new name before you know it. This crafty conman has an charming equilibrium about him, allowing him to pull off such duplicitous acts. Coming off his breakout role in Batman ('89), Michael Keaton puts on an exceptionally threatening performance in the 1990 Thriller Pacific Heights. Hayes's unprincipled criminality is seemingly boundless as he bamboozles his Landlords in a renter's scam set in the opulent neighborhood of San Francisco known for its prodigious Victorian homes.
34.)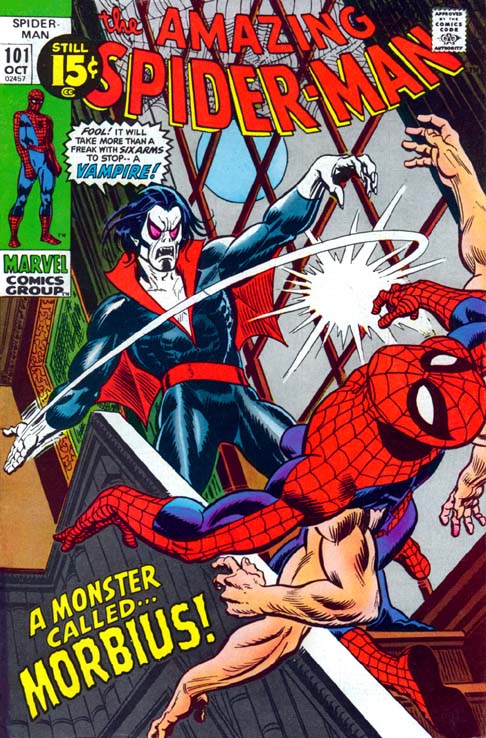 Morbius, The living Vampire (Marvel Comics) – Sticking out from Dracula's shadow in the realm of vampiric horror is a difficult feat, yet Morbius is a special variant of the vampire species. Marvel comics launched this spider-man villain shortly after the comic book code lifted its strict moratorium on horror characters in the early '70s.  Simply put, Michael Morbius was a biochemist experimenting feverishly on himself in an attempt to mitigate his rare blood disease. Tragically, he misfired by injecting himself with a pernicious bat-tonic, combining that with electroshock therapy! The character rumbled with Spider-man for a bit before prowling over to Vampire Tales, a marvel horror magazine from the '70s.
33.)
Catherine Tramell (Basic Instinct) – "I'm a writer. I use people for what I write." Sharon Stone put on a peerless performance as the psychotic Crime-Writer in the Basic Instinct thriller series. If her arresting looks didn't accomplish the task, her seductive wits were always infallible. A verbal duelist who could escape any plight with her tongue, Catherine spins an intricate web of deceit to pull off her murderous misdeeds.
32.)
Mort Rainey (Secret Window) – "You know, the only thing that matters is the ending. It's the most important part of the story, the ending. And this one… is very good. This one's perfect." — Stephen King's short story from the '90s explores the dark-side of the mind and how when affected can fester to an even darker side. Exceptional screenwriter David Koepp (Jurassic Park) and luminary movie star Johnny Depp collaborated for this underrated psychological thriller about a writer's descent into madness. The film is filled with great lines and supreme acting, which makes for excellent rewatch-ability.
31.)
Cathy Gimble (Cathy's Curse) – Essentially Cathy Gimble's the Canadian mixture of Damien (The Omen) & Regan (The Exorcist)– in the form of a young blonde girl. After being possessed by the spirit of her dead Aunt, Cathy serves up a supernatural reign of deadly terror. Lasting a short span, Cathy's trash-talking rampage results in the death of her nanny, the loss of her mom's sanity, and the humiliation of a psychic—as well as the shattering of all the antique breakables in the house.